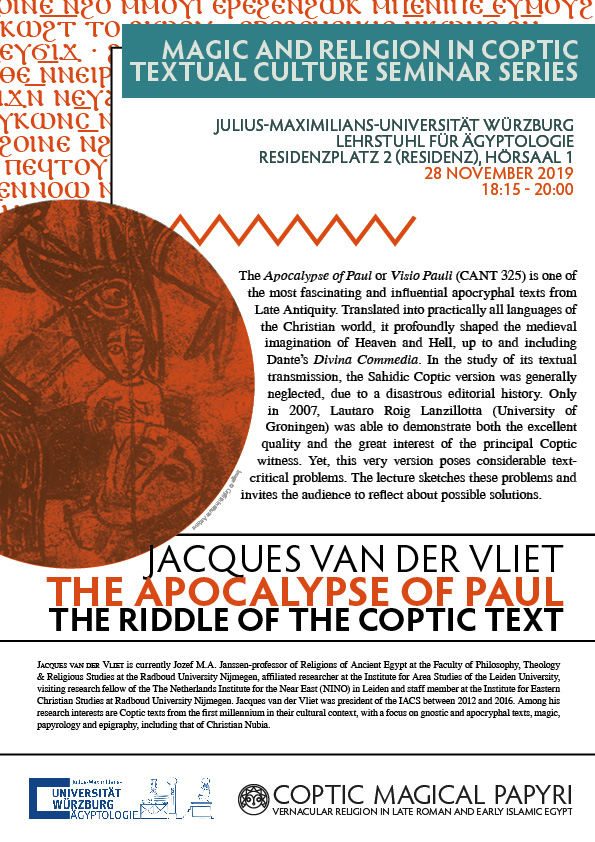 Over the next few months we will be running a seminar series entitled Magic and Religion in Coptic Textual Culture at the Department of Egyptology of Würzburg, inviting specialists in this field to discuss their research. Funded by the University of Würzburg Universitätsbund, our first guest will be Jacques van der Vliet of the University of Leiden, who will be speaking on the 28th November 2019. His topic is the Coptic Apocalypse of Paul.
The Apocalypse of Paul or Visio Pauli (CANT 325) is one of the most fascinating and influential apocryphal texts from Late Antiquity. Translated into practically all languages of the Christian world, it profoundly shaped the medieval imagination of Heaven and Hell, up to and including Dante's Divina Commedia. In the study of its textual transmission, the Sahidic Coptic version was generally neglected, due to a disastrous editorial history. Only in 2007, Lautaro Roig Lanzillotta (University of Groningen) was able to demonstrate both the excellent quality and the great interest of the principal Coptic witness. Yet, this very version poses considerable text-critical problems. The lecture sketches these problems and invites the audience to reflect about possible solutions.

The lecture will take place from 6.15-8pm in Hörsaal 1 on the first floor of the Würzburg Residenz, and entry is free.
We have two more seminars coming up this semester: Dylan Burns will discuss his work on the Gnostic Nag Hammadi Library on the 16th January 2020, and Sebastian Richter will discuss the Elders of the Apocalypse, believed in the Coptic tradition to be twenty-four angels, on the 6th February 2020.