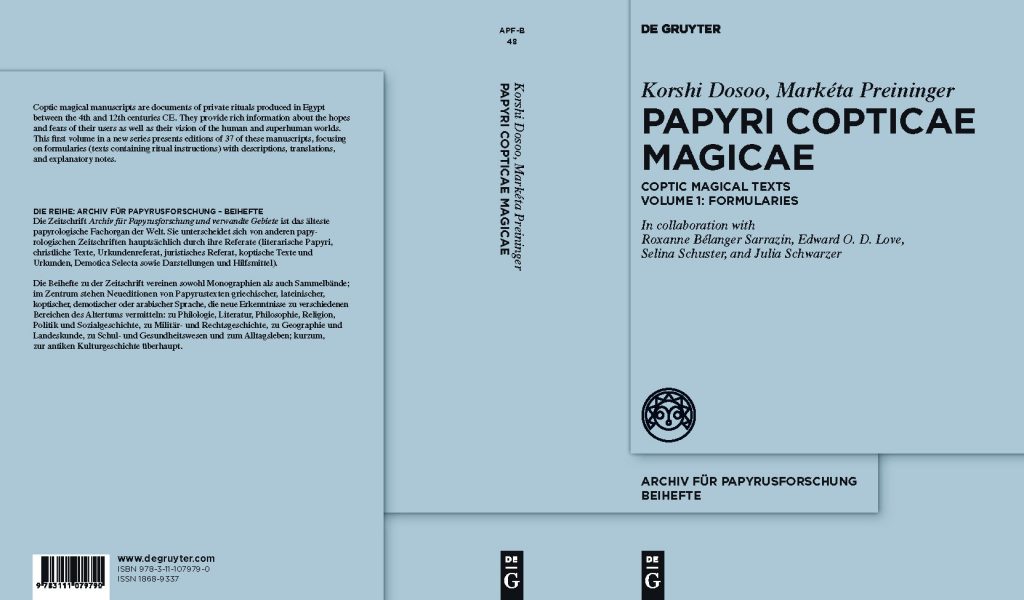 It's hard to believe that a little over five years have now passed since the three original members of the Coptic Magical Papyri project sat in the Egyptology department in Würzburg and began to plan how we could contribute to the study of Coptic magical texts. In August of this year our project ended, and so in this blog post we will discuss what we achieved in the last five years, beginning with our exciting news, the publication of the first in a new series of Coptic magical texts, Papyri Copticae Magicae.
Papyri Copticae Magicae. Coptic Magical Texts, Volume 1: Formularies
From the beginning of our project we planned to produce a printed edition of Coptic magical texts, and after a huge amount of work over the last year we are pleased to announce that the first volume of Papyri Copticae Magicae (PCM) appeared in print on the 6 November, 2023 in the series Archiv für Papyrusforschung und verwandte Gebiete – Beihefte.
This first volume contains new editions of 37 magical manuscripts written primarily in Coptic. All of these manuscripts have previously been published, but our editions substantially revise and correct previous editions; in many cases, the previous publications are no longer in print, or no English-language translation has ever existed. Each manuscript is introduced by an extensive discussion of what is known of its production, use, deposition, and discovery, as well as its physical appearance and linguistic features. The Coptic text is presented in a way which schematically represents the layout of the original manuscript, and we provide extensive notes on the language and contents, in order to make these texts more accessible to non-specialists. We know that not every reader will find every one of these features equally interesting, but we hope that all readers will find something relevant to them. If your focus is on the Coptic language, you may appreciate the discussions of the dialect and the representations of spelling mistakes and their correction; if you are mainly interested in Late Antique Christianity, you might instead focus on the translations and the commentary which often provides parallels to hagiographic or theological texts.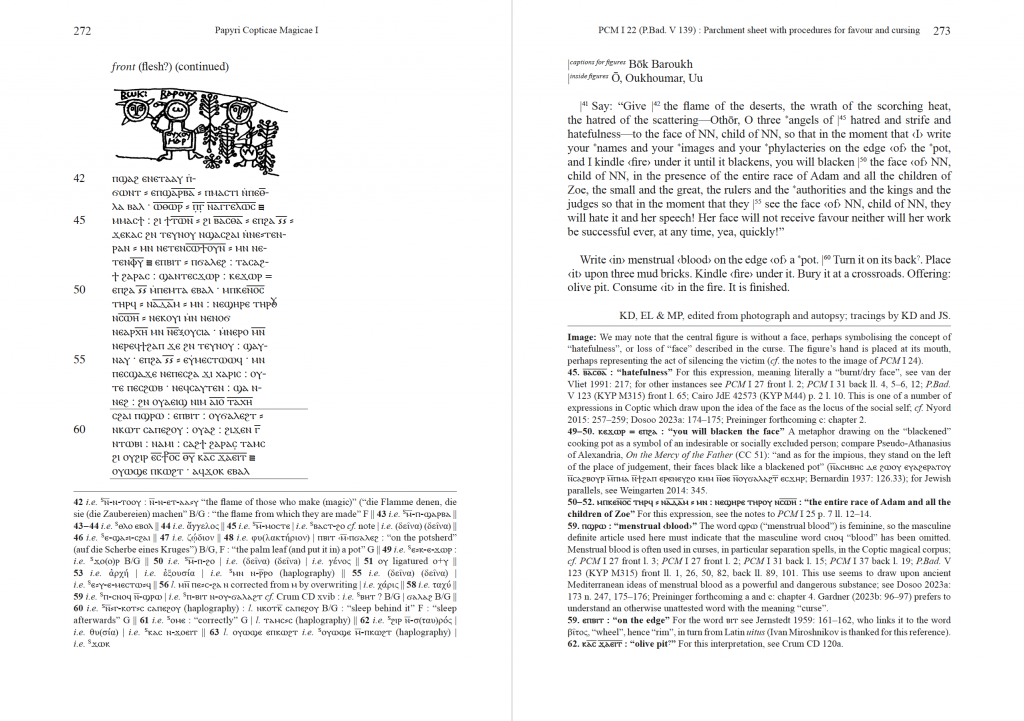 The volume is 637 pages long, and is prefaced by an extensive introduction to Coptic magical texts – their historical development and relationship to other Christian magical traditions (Greek, Syriac, Armenian, Ethiopian, and Nubian), and their physical and linguistic features. The end of the book has a detailed glossary, which contains short essays on recurrent topics – the ancient Egyptian deities in Christian magic, and the incenses and ritual materials which the texts make use of. The volume has extensive indices of words of Egyptian, Greek, and Arabic origin, as well as fifteen colour plates, providing images of several of the manuscripts, most of which have never before appeared in print.
All of these editions grew out of drafts originally made available through the Kyprianos database, and we plan to update the online versions of the texts to reflect changes made in the Papyri Copticae Magicae, so that even those without access to the printed version will have access to our texts and translations. We are aware that at €119.95 this volume may unfortunately be beyond the reach of many of our readers, but we hope that they may still be able to access it through a university or public library; if there is sufficient interest, a cheaper paperback may be produced in 2024 or 2025.
Other Publications and Conferences
While the Papyri Copticae Magicae took up most of our year, we did manage to squeeze in some other work. Our three project members presented seventeen papers at conferences and workshops over the last year. In February 2023, project member Korshi Dosoo co-organised a workshop, Structuring Magic: Towards a Digital Infrastructure of Texts and Artefacts at the Lorentz Centre in Leiden together with Dr. Raquel Martín Hernández, Dr. Ortal-Paz Saar and Prof. Panagiota Sarischouli, with the goal of exploring new ways to integrate the study of magic in antiquity and the Middle Ages with emerging technologies, and in June he organised a panel entitled Magic in Mediterranean Antiquity: Practices and Representations of Practice at the 9th Biennial Conference of the European Society for the Study of Western Esotericism at Malmö University in Sweden, which brought together specialists on ancient Greek and Coptic magic with students of Western Esotericism in order to discuss what the two disciplines might be able to learn from one another.
In addition to one submitted but unpublished article, the project published two articles:
Korshi Dosoo, "He Means 'Rose': Marginal Notes in the Greek Papyri of the Theban Magical Library", in Magic and Religion in the Ancient Mediterranean World: Studies in Honor of Christopher A. Faraone, edited by Radcliffe G. Edmonds III, Carolina López-Ruiz and Sofía Torallas-Tovar
The Greek magical papyri are full of marginalia, in which scribes make notes to themselves, or correct or add to the text, but these have generally been ignored in the past since they are almost invisible in the existing editions and translations. This article provides a detailed overview of the marginal notes in the manuscripts of the Theban Magical Library, discussing their use, and what they tells us about who the writers were and how they used their papyri.
Korshi Dosoo, Review of Britta K. Ager, The Scent of Magic (2022), Journal of Roman Studies
A brief review of a fascinating new book on the role of scent in magic and ritual.
Markéta Preininger, "Corporeality of Minerals and the Earth in Late Antique and Early Islamic Egypt," Svět literatury/World of Literature XXXIII 68 (2023): 14-25. This article in Czech discusses the corporeality that permeates the concept of something as seemingly disembodied as minerals or the earth, as we naturally perceive our surroundings through the prism of our own bodily experience. Using the examples of two objects from late antique and early Islamic Egypt, traditionally categorized as "magical" objects, it is illustrated how corporeality permeates the perception of earth and stones in a particular historical context.
The Kyprianos Database
Our work on the Papyri Copticae Magicae left us too busy to do a database update, but we have another one coming soon, and we can happily guarantee that the database (and this website) will remain online for the foreseeable future, supported by the Department of Egyptology in Würzburg, despite the fact that the project which launched it has officially ended.
Podcasts
In March we published our latest podcast episode, an interview with Michael Zellmann-Rohrer on Byzantine magic. Michael is one of the most prolific and wide-ranging scholars working on ancient magic at the moment, and this interview provides a valuable introduction to a of the lesser-known but very important corpus of magical texts.
Looking Back
When we started this project five years ago, we had big plans, and while we weren't able to do everything we had hoped to, we are very proud of what we have achieved.
From the beginning, our project had five main goals. The first was the creation of a continually-updated, publicly-available online corpus of Coptic magical texts, which we have accomplished. In the first year of our project we created the architecture of the Kyprianos database and began to fill it with data, making it available online in the second year, and we have continued to update it in the years since. Kyprianos has become a valuable tool for us (and we hope, for others) to keep track of and explore magical texts in Coptic, Greek, and Demotic. When we started this project, Roxanne Bélanger Sarrazin's groundbreaking checklist of Coptic magical texts had identified 304 published Coptic magical manuscripts, and we believed there might be another 100 or so unpublished manuscripts. The number of Coptic magical manuscripts in Kyprianos now stands at 600, and the number keeps growing!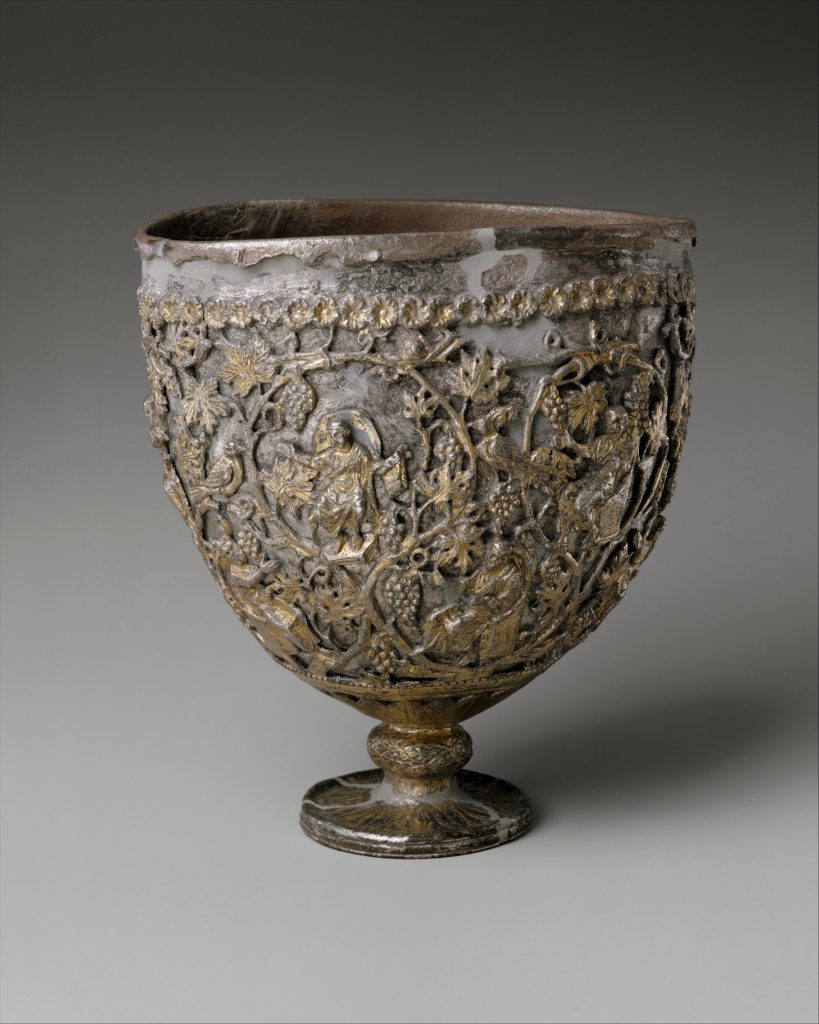 Our second and third goals were the edition of new texts, the re-edition of older manuscripts, and the publication of these texts online and in print. Here, we perhaps underestimated the scale of the work that awaited us; we hoped to edit all of the Coptic magical texts in 5 years, but this proved to be far too ambitious, especially as the number of texts continued to grow. Nonetheless, the online version of Kyprianos now contains 234 edited texts, and our offline version contains draft editions of many more. While many of these are texts which had been previously published, working systematically on the corpus as a whole has allowed us to resolve many of the mysteries of these texts. For example, the strange word ⲕⲟⲭ (kokh) has confused scholars for nearly a hundred years; our work has shown that it is actually a Greek abbreviation, κοινά (koina), "(the) usual", used to mark a place in which a reader is to insert their name or another piece of information. Similarly, the word ⲁⲣⲭⲏ (arkhē, "first") is often used to describe wine and oil in a way rarely found in other Greek or Coptic texts. Our work has likewise shown that it is an abbreviation of ⲁⲡⲁⲣⲭⲏ, meaning "of the first fruits", a description of the first batch of wine in the harvest, donated to the church, and blessed by the bishop, intended to be used for the eucharist. Its use in Coptic magic thus shows one way in which Coptic magic appropriates material and techniques from the liturgy. Both of these are discussed in more detail in Papyri Copticae Magicae, which represents our project's major printed output. Finally, the course of the project saw the publication of 7 new magical manuscripts by the project members (with a few more in press).
Our fourth goal was the production of studies on specific aspects of the magical texts, and we think we have done this – as well as the introduction and glossary of Papyri Copticae Magicae and our published progress report, project members have produced 11 published studies (again, with more in press) of aspects of the magical papyri ranging from Coptic-Greek and Coptic-Arabic bilingualism and the use of figurines, to the conception of animals, angels and the pagan past in Coptic magical texts (see our online bibliography of Coptic magic for these). We should also mention Markéta Preininger's thesis on the topic of the body in Coptic magical texts, defended in 2022, which made extensive practical use of the Kyprianos database.
Our last goal was to communicate our work through regular blog posts and podcasts, and while our blog posts are less regular than they were when the project began, we have built up a small library of thematic discussions which will remain online for the foreseeable future, which we hope to add to as time goes on.
Looking Forward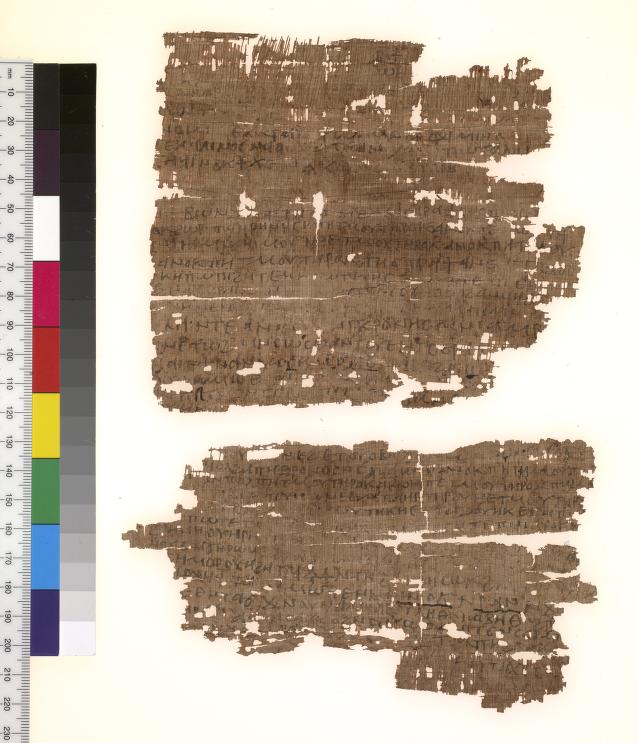 Two of the project members – Korshi Dosoo and Markéta Preininger will continue to work on Coptic magic at Würzburg over the next year. Markéta Preininger has received a SCIENTIA scholarship for a project entitled "Invisible Influences on Health: Health and The 'Spirit' World in Late Antique Egypt". In this project, Markéta's first priority is publishing her doctoral thesis. She also plans to produce new editions and translations of five manuscripts from the University of Michigan papyrus collection, alongside a study of the use of invisible forces (including magic) in the negotiation of health in Late Antiquity. Korshi is working on finishing a study entitled "The Construction of Magic in Christian Egypt", which will provide an overview of the practices of the Coptic magical papyri (and the smaller number of late Greek texts related to them) as well as contemporary literary representations of magic, and their relationship to real practice.
Their work is now just a small part of a much bigger program studying ancient magic at Wurzburg, which is now home to the DFG-funded project MagEIA, establishing a centre for the study of the magical textual traditions of Western Asia and the Eastern Mediterranean in Antiquity, led by Profs. Daniel Kölligan, Daniel Schwemer, and Martin Stadler, and we look forward to working with them, their research assistants, and their visiting fellows in coming years.
In regards to the study of Coptic magic, we hope that our Papyri Copticae Magicae will be the first of many more volumes to come. As we have already noted, this website, and the Kyprianos database, will remain online for the foreseeable future, and we will continue to develop them both in the coming months and years, adding new blog posts, database updates, and podcasts.
Thanks to all of our followers who have encouraged us over the last few years by reading, sharing, and commenting on our work, and who have contacted us with their questions. We hope to have some more exciting news to share with you soon!